Ever since the advent of cloud computing, it has become far much easier to store, manage, and transfer files online. In fact, you do not need an external storage device to keep your files. You only need to utilize any of the file hosting platforms available online to store and share your files accordingly. One popular file sharing platform that you should consider is Daofile.com
What is Daofile?
As the name implies, Daofile is a trouble-free, user-friendly file sharing service that allows you to upload, store, manage, transfer, and share your files conveniently and securely using your internet enabled device. You can upload and transfer from 1 GB to 30 GB per day between your PC and Daofile servers. The best part is that it is free and you don't even have to register to use this service. However, to enjoy seamless file-sharing services, you are advised to register and upgrade to Daofile premium account.
Background Information
Daofile has been in business for slightly over 7 years since its inception in the year 2012. This makes it one of the oldest and most active file-sharing providers available today. The company has its headquarters in the United States, with its data centers situated in several locations around the world.
Getting Started with Daofile
You may upload files to Daofile free of charge without having to register. However, this is only ideal if you are in a hurry, and you want to store your files temporarily before retrieving them later. To enjoy more access, you are advised to sign up with Daofile. After all, registering is free except for Daofile premium that is available at a cost.
The registration process is super fast and easy, given that you have two options for registering. One, you may sign up using your social media accounts (Facebook or Google). Alternatively, you may opt for the traditional route of entering your email address and creating a password. You may then start transferring your files right away as soon as you complete the registration process.
How does Daofile Work?
One of the biggest advantages of Daofile is that it is very easy to use. You do not have to go to great lengths to upload and download files, given that the platform has a user-friendly interface with an easily navigable website.
In terms of functionality, Daofile allows you to transfer your files using three different methods. These include:
Web upload
Web or browser upload is the easiest way of transferring files, given that you only need to drag and drop your files to the provided upload box. However, this is only ideal for small files such as documents and photos, considering that it is somehow slower than other methods.
FTP
On the other hand, FTP upload is the most preferred since it is not only fast but also suitable for larger files such as videos and music. Nevertheless, you have to install an FTP client on your computer to use this method.
Remote Upload
Lastly, remote upload is best for transferring files from another computer other than the local host using URL links. This comes in handy if your internet connection is very slow.
Daofile Free Account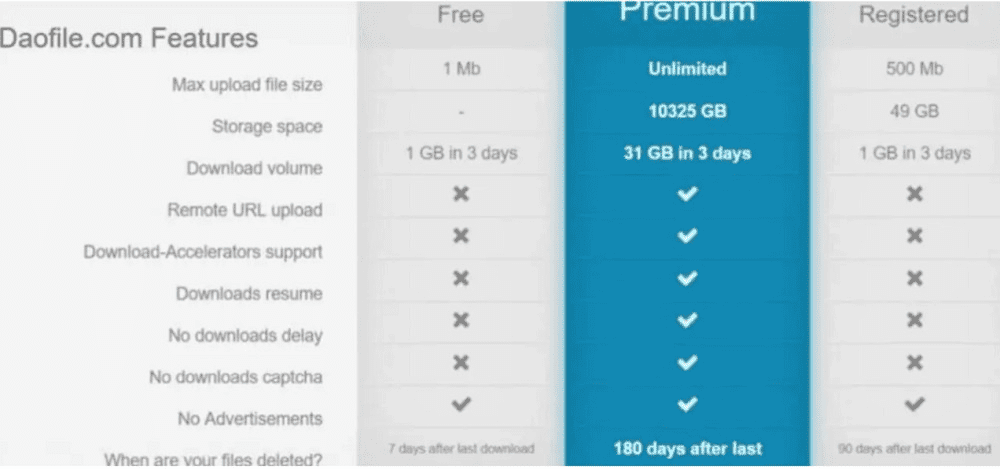 The basic level is 100 percent free, as it allows you to test what Daofile has to offer without having to spend a dime. However, this membership plan comes with a few restrictions, so you should not expect to access the same features as with a Daofile premium account.
Daofile Premium Account
Daofile premium accounts come with great offers, including fast download speeds, parallel downloads, and increased file size limits. You may download file sizes of up to 31 GB per day using Premium, respectively.
Moreover, all premium downloads are resumable, meaning that you can pause and resume your downloads at any time without starting all over again. The best part is that premium members do not have to wait. In essence, you can start your downloads right away without entering Captcha codes or waiting for the timer to run down.
Daofile Rates

Daofile premium starts from as low as $14.95 per month. Moreover, you have the option to choose the period of your subscriptions ranging from 30 days to one year, depending on your file hosting needs. Here is a breakdown of the Daofile premium rates.
Daofile accepts various payment options, including Visa, MasterCard, American Express, Discover, JCB, and Web Money, among others.
Is Daofile Safe?
Daofile is perfectly safe. The company has enforced the latest security mechanisms, including SSL encryption, to protect your data from illegal access. All payment transactions are also secured and encrypted using state of the art encryption.
Help and Customer Support
Daofile.com has a dedicated customer support team that is available round the clock to address your concerns and any queries you may have. The only problem is that they do not offer live chat or phone support, meaning that you have to wait for a response via email.
Conclusion
If you want to enjoy user-friendly file-sharing services with supersonic downloads and maximum security, then consider registering with Daofile. This platform offers exceptional file hosting at reasonable rates. The fact that they have two premium options is another added advantage.